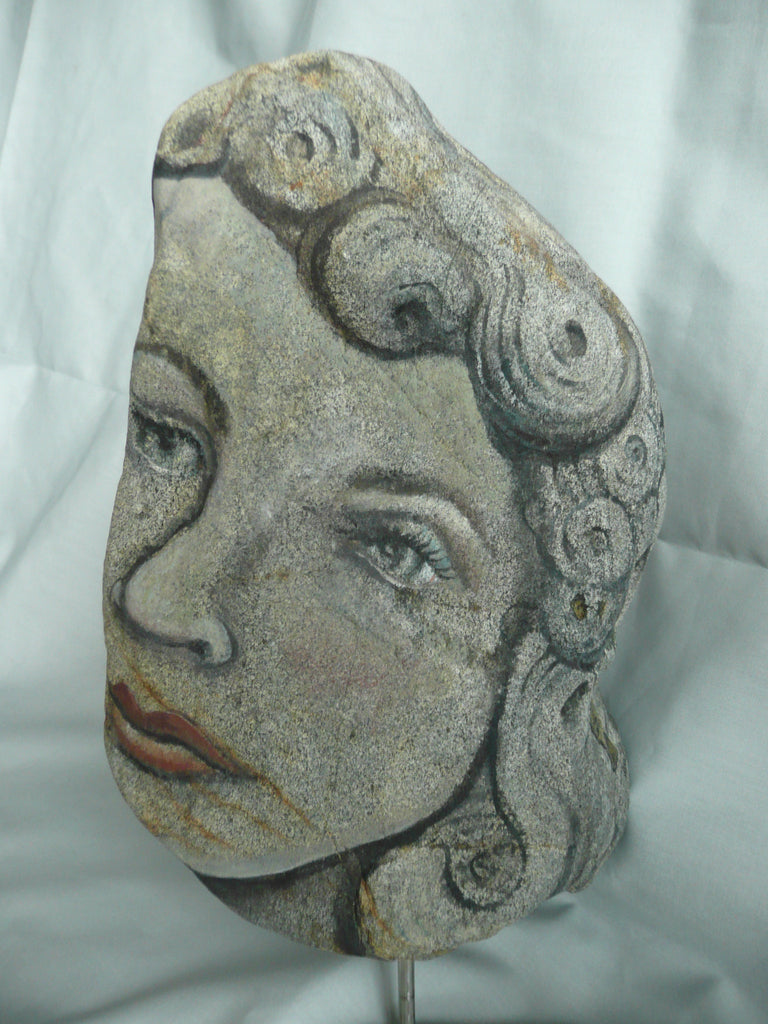 Betty Grey
<----[move your mouse cursor onto the picture for a more detailed view!]
This rock was found on a trip I took up the BC Sunshine Coast in 2009. It's sandstone with a fossil embedded in it. I saw the woman to be a black and white film star; you know the silver screen starlet type with pin up girl appeal. Painting is a very dreamy place for me, and as I was highlighting the fossil that happened to be situated in the woman's hair I was wondering what it could be. Before I could think about it too much it already was a nail, a hairpin, a thing to pin her up with and all I had to do was highlight it. It also went well with the three natural rust marks on the back of the stone, one being a naturally occurring heart. I love the way the rust of the rock so naturally drags across her lipstick lips. If I was a writer she'd be a poem. 
A while later after showing the completed piece, someone said to me "Oh, you call that rock 'Betty Grey'? It looks like Betty Grable." I had never consciously known or heard of Betty Grable before, but when I looked her up there she was. It's as if I channeled her into this rock.
This rock comes complete with display stand.
Dimensions: 9" x 6" x 2.75" 
Weight: 3.76 kg / 8.47 lbs